The 2008 St Louis Show
Thousands of woman will pass by our booth again this year!
Many women watch, and many received haircuts...

We should have some Products Samples again this year, along with the stylist's coupons! Everyone loves to save money.
We expect around 50 stylists from 20 St Louis salons again this year.
Show Visitors bring new Kid's hats for the Children
that have cancer and losing their hair. In turn, we provide the Show's visitors with Free Haircuts, and the hat donors provide words of encouragement on cards that go with each hat!

Many new Friends and Clients were made.
Hats off 4 cancer will have additional sponsors again this year
And the local press takes pictures and sometimes interview stylists at the show.
THIS WAS A WIN-WIN Opportunity.
Volunteeering Stylist, Associates, and Scoutswanting to assist click here.
For next year's show 0n 22-24 February 2008,
Call Margaret TODAY at 314-487-0765
or 877-483-6748 (toll free)
or Fax 314-487-3764
WWSS info: www.wwssonline.com
Images from last year's WWSS show: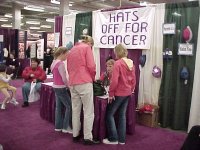 People checking in and donating their hats for kids
Matrix donated sample products for nearly every visitor to the WWSS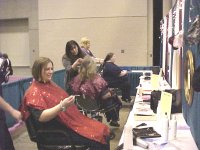 Three of the six stations that the St Louis Stylists used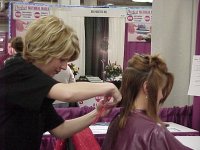 Our First Customer of the Show!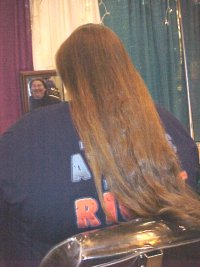 Our First Hair with a Hat Donation at the show this year!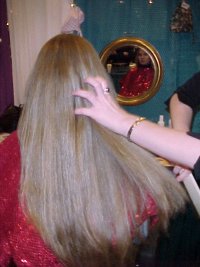 Another Great Hair Donation with her Hat Donation!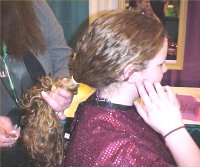 She had second thoughts, but she did it anyway for the kids!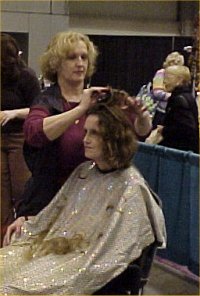 She is excited about her new hair style!
What a deal, a new do for a new hat.......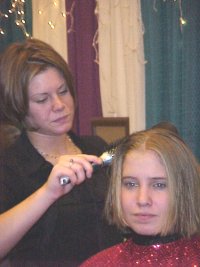 A Happy Customer with her Volunteer Stylist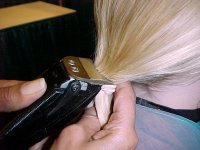 A WWSS Visitor donates her long blond hair and a hat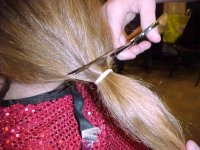 Another WWSS Visitor donates her beautiful hair and a hat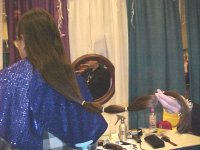 Can you believe how long her hair is? This is a record donation!

Another fine hat that was donated at the St Louis WWSS show